French Polynesia Hospital Centre SWAC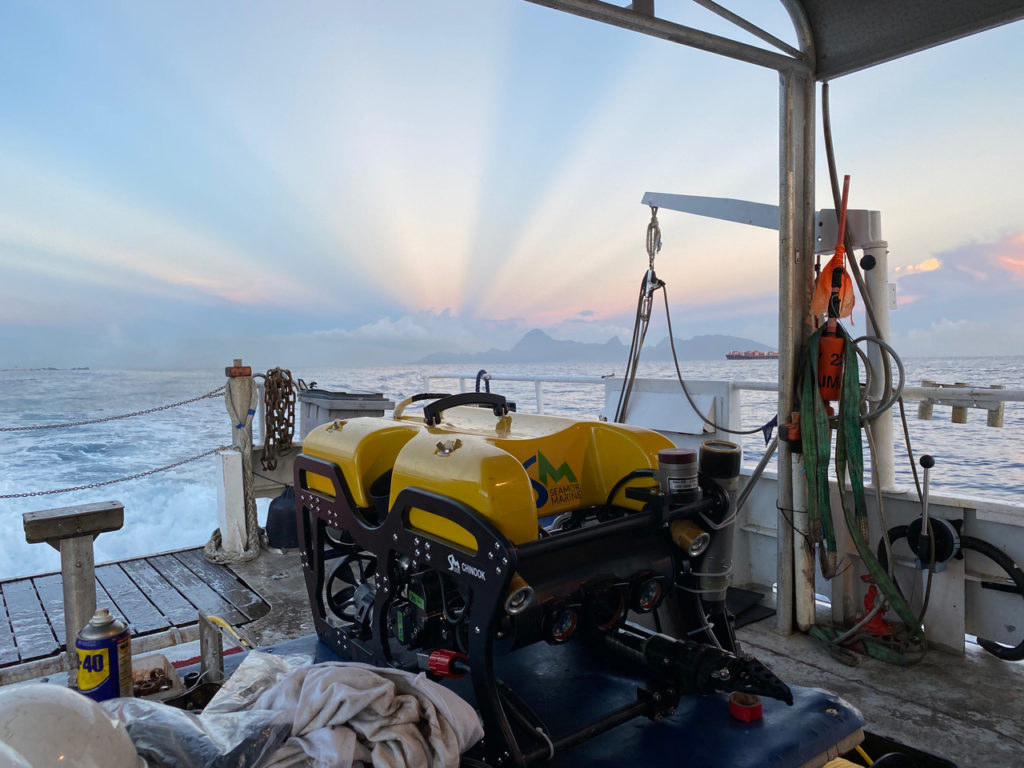 Imagine a world with fewer emissions, where renewable energy reigns supreme. A world where technical innovation doesn't come at the cost of our climate but works to establish an eco-sustainable infrastructure for our future. A world where industry and nature are seamlessly synergized and evolve in unison. This is a world SEAMOR Marine not only believes in but is working to actualize through the implementation of our cutting-edge robotics.
In the spring of 2021, Copetech-SM, a world-renowned specialist in hydrographic surveying and ROV inspections from Marseille, France, selected the SEAMOR Chinook ROV to help make major environmental strides off the coast of Tahiti. Copetech-SM is partnering with GEOCEAN, among others, to assemble the world's largest commercial seawater air conditioning system (SWAC) for the French Polynesia Hospital Centre (CHPF).
Submerged opposite the CHPF, the SWAC pipe will run approximately 3.8km in length, pumping in seawater at 5°C into the hospital's water-cooled air conditioning before being discharged at around 12°C into a nearby lagoon. Extensive studies were conducted prior to the project's commencement to ensure the discharged water would not present any adverse environmental impacts.
An overwhelming majority of current air conditioning systems rely on electricity or heat sources to operate, imposing a steep energy demand in areas like French Polynesia, where the heat and humidity levels can rise to extremes. By harnessing the power of cold, deep seawater, the new SWAC will possess a cooling capacity close to 6 MV, eliminating the need for CHPF's energy-guzzling water chillers.
The SWAC will result in an annual savings of 2,880 tons of heavy fuel oil and 10,500 tons of CO2 emissions, the yearly emission equivalent of approximately 5,334 cars. Furthermore, CHPF's air conditioning electricity consumption will be reduced by about 85 to 90%, culminating in a significant economic savings of 350 million francs per year.
Having built a long-standing relationship with Copetech-SM founded on the performance and dependability of their multiple Chinook ROVs, it was no surprise SEAMOR is Copetech-SM's first choice to certify that the SWAC is installed safely and efficiently. Copetech-SM uses their Chinook ROV to navigate depths up to 300 m in underwater conditions that pose a threat or are otherwise beyond the bounds of human divers.
Home to a diverse array of marine life and exposed to high swells and relentless waves year-round, the crystal waters surrounding French Polynesia are not to be underestimated. Moreover, water temperatures in the region can surpass 30°C, putting divers at potential risk of accelerated fatigue and core temperature rise when participating in a fully-immersed activity. Fortunately, ROVs have revolutionized the way underwater surveyors and inspectors collect their data, taking human divers out of unstable situations while expanding their reach.
Our Chinook ROV is quickly becoming the primary solution to numerous aspects of the SWAC installation, including precise temperature monitoring, pivotal to ensuring the operation poses no negative impacts on local ecosystems. The Chinook monitors temperature readings from 300m to the surface, calculating temperature distinctions at different distances from the SWAC. This process helps to discern how quickly the water is cooling as it proceeds down the pipe.
Throughout the construction of any long-standing underwater structure, careful positioning of the framework, equipment and divers are crucial. Mounted with a USBL and using sonar technology, our Chinook ROV oversees regular position checks to ensure accurate topography.
The SEAMOR Chinook ROV is also implemented to facilitate cathodic protection readings, managing design calculation verifications and monitoring potential corrosion hot spots. A reference electrode is fixed to the ROV, which then surveys the area, making contact with the pipe at various touch-points to gather its readings. The information is then transmitted up the Chinook's tether and recorded on the surface for evaluation. Cathodic protection readings are a vital step in constructing any underwater structure, especially critical for ocean and sea located projects as saltwater corrodes metal five times faster than freshwater.
There is no room for error when addressing environmental issues; reliability and high-functionality are key. With our planet's well-being at stake, trust in the performance, accuracy and durability is paramount. SEAMOR Marine has been solidifying that trust for over 15 years, producing world-class ROVs that continue to prove their resilience and versatility in the field.
We are proud that our ROVs are deployed in countless environmental projects worldwide. Our ROVs have demonstrated their proficiency in all manners of applications, from addressing oil leaks to participating in massive environmentally driven projects like NEOM. As we continue to innovate, we keep our clients' varied needs and the environment in mind, creating technology that not only streamlines our daily lives but betters our future.