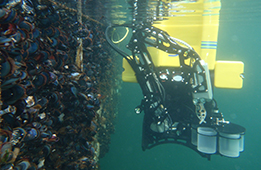 Undertaking routine activities such as:
Net inspections
Regulatory compliance work
Mort recovery
Inspection of cages, docks, pipes, cables, and moorings
Recovery of expensive lost equipment
Surveying & sampling of sea beds
All of these tasks, and more, can be easily completed without the use of a commercial dive team, significantly lowering costs.
Environmental specialists the world over who serve the growing aquaculture industry, are turning to the use of remotely operated vehicles to enhance their report capability. Our line of ROVs can assist in this work doing high-resolution photographic surveys and other ocean bottom deployments.
Clients use ROVs to descend to depths to perform tasks that include digital image capture needed for post-survey reports or a narrated DVD an environmental specialists might provide for their clients.
The SEAMOR ROV has a depth rating of 600m (2,000 ft.) and can be remotely operated using standard umbilical lengths up to 950m (3,000 ft.). Custom built, modular ROVs from SEAMOR can fly to depths of 600m (2,000 ft.) depending on customer needs.
In an industry where early detection of seabed pollution, fish disease or pen leaks is imperative, an ROV can provide a vital service with an accurate underwater look at the problems in time to find a solution.