Context
Hydroelectric dams provide one sixth of the world's electricity which represents more than all other renewable sources combined, including nuclear power. In a world moving ever toward a sustainable energy future, it is impossible to ignore the promise and potential of hydroelectric power generation. Situated in strategic locations to maximize captured energy, the efficient management of these operations is a matter of national and international importance.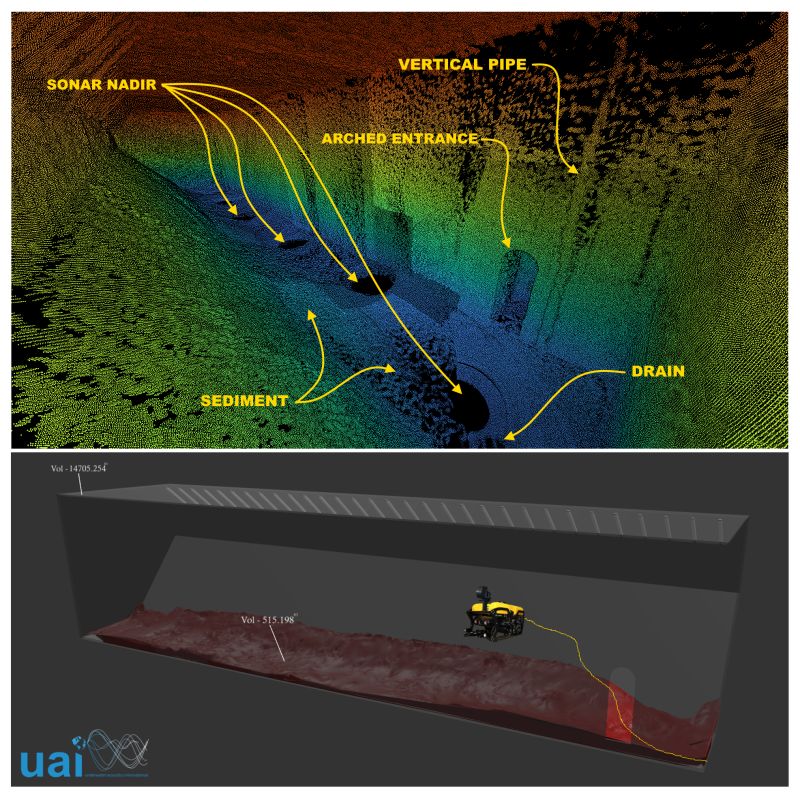 Problem
Hydroelectric power generating stations are enormous pieces of infrastructure that must be constantly monitored and maintained. The scope and scale of such operations require accurate, up-to-date data to ensure the integrity of key structural and operational components. Such surveys are not only costly and time-consuming, but potentially dangerous as the force and volume of water that even moderate sized hydroelectric dams handle is incredibly turbulent.
Human divers are not a viable option in many instances where the risk to life is too great. Remotely operated vehicles (ROVs), such as SEAMOR Marine's Chinook ROV, equipped with SONAR (Sound Navigation and Ranging) provide surveyors and engineers with a safe robotic option for inspecting the submerged interior components of the hydroelectric dams they maintain.
However, key points are still difficult to assess, especially the turbine/scroll cases and draft tubes. Even during scheduled shutdowns, capturing accurate data to evaluate the state of these components may be extremely difficult. The impact of inaccurate data could range from unscheduled interruptions of generator service for equipment replacement or repair to a disastrous full-scale structural collapse.
Solution
The engineering team at Underwater Acoustics International (UAI) has developed an innovative, non-invasive approach to compiling multiple sources of scanned data to produce stunningly detailed hydroelectric infrastructure inspection reports. Using both 3D SONAR and LiDAR (Light Detection and Ranging), their surveying team is able to model both interior and exterior surfaces with an extraordinary level of detail.
By mounting their SONAR and LiDAR scanners on SEAMOR's Chinook ROV, the UAI pilots are able to navigate submerged sections of the dam to collect all the necessary imaging data. High fidelity SONAR is used to scan submerged components, heedless of murky waters, particulate debris, and other obstructions that might impair a visual surveying camera. The top-mounted LiDAR is utilized once the Chinook surfaces, either inside interior structures or outside the hydroelectric dam's exterior walls. All the while, scanning devices are held steadily in place by the Chinook's six famously reliable and powerful thrusters.
By compiling both the SONAR and LiDAR data, the UAI team produces absolutely breath-taking visual images of hydroelectric generating structures, such as the image show below. By providing a comprehensive and detailed view of these critical components, UAI offers engineers unparalleled insights into the state of the generating station.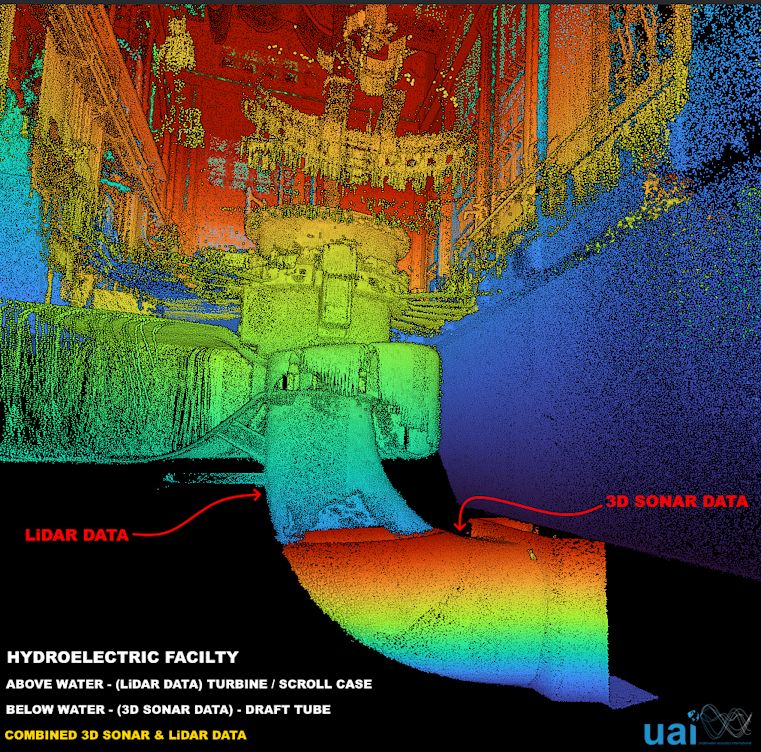 "We are always trying to push the boundaries of underwater investigations with our SEAMOR Chinook ROV using various mounted 2D and 3D sonars," says Ryan Wallace, UAI Director of Business Development and Sonar Specialist. "Providing an accurate and detailed 2D and 3D underwater data visualization of submerged infrastructure for our clients is paramount. Implementing cutting-edge ROV and Sonar technologies with unconventional investigation methodologies allows our clients to now assess the entire dam structure with heightened efficiency and accuracy, identifying potential issues and correlations that might have been overlooked previously with conventional diving methods."
We at SEAMOR Marine applaud Ryan and his team at UAI for their innovative and groundbreaking work in the field of hydroelectric surveying. Further, we are honored to see our Chinook ROV being put to use in ensuring a greener energy future for generations to come.
Interested in learning more? Reach out today to speak with our industry experts