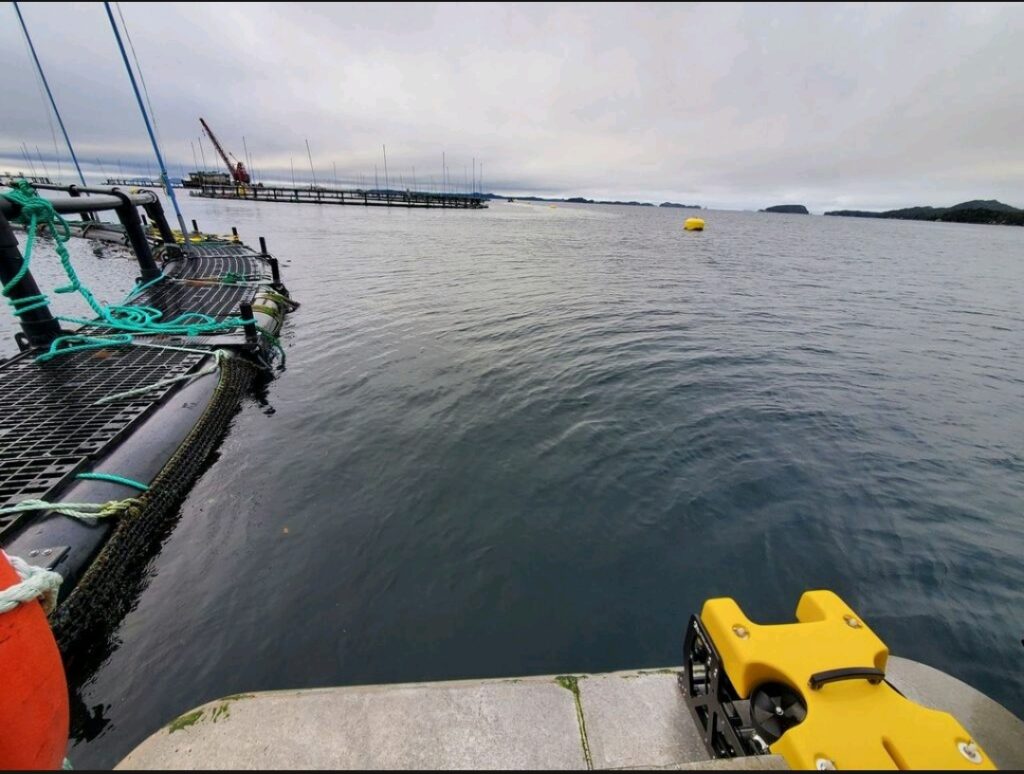 MOWI is one of the largest seafood companies in the world, operating in twenty five countries and internationally fulfilling one fifth of global demand for Atlantic salmon. Their aquaculture operations extend across the globe, including a site near Port Hardy on Vancouver Island, just two hours north of SEAMOR Marine's head office.
MOWI takes pride in the fact that they maintain full internal control of their operation, from genetics to feed, from farming operations to harvesting, all the way down to processing and shipping. In considering ways to improve the logistical efficiency of their on site maintenance, MOWI staff connected with SEAMOR Marine. As a company that also embraces innovation and collaboration, we were thrilled to demonstrate what our remotely operated vehicles (ROVs) could offer their operations team.
Problem
Aquaculture sites require constant monitoring and frequent cleaning at depths and in tides that can prove challenging or even dangerous. In British Columbia, these sites are strictly regulated by Fisheries & Oceans Canada (also known as the Department of Fisheries & Oceans, DFO) and are monitored closely by the federal government to ensure full adherence to environmental impact standards. As it conducts its operations, MOWI is dedicated to meeting all these standards to minimize the environmental impact of their operations and to achieve the highest possible quality salmon to bring to customers.
As of 2022, MOWI maintained their aquaculture sites using a team of human divers supported by a host of safety personnel and all the associated marine equipment. These teams inspected salmon nets for tears or defects, installed patches where necessary, and replaced nets by cutting highly-tensioned submerged anchor wires. While effective in completing the task objectives, these diving operations were expensive, time-consuming, and posed a potential risk to the human divers, as is the case in any marine environment. Therefore, MOWI was keen to explore more cost-effective options involving remotely operated vehicles (ROVs), a field in which SEAMOR Marine is an international leader.
Solution
In Fall 2022, the SEAMOR Marine team visited the Port Hardy site at MOWI's request for a demonstration of the Steelhead ROV. The potential cost-savings to the company were considerable, and the Steelhead's reputation for reliability, portability, and maneuverability all aligned to facilitate this unique opportunity.
The first task was a visual inspection of the aquaculture site nets, including both an interior and an exterior scan. Using SEAMOR Marine's C-Can camera, quality video footage revealed affected areas and pinpointed where in the container deceased fish would need to be removed. Compared to the human diving operations, the Steelhead efficiently conducted the survey without the extensive equipment and additional safety personnel.
The second task was to place patches on damaged sections of the net. This task required exceptional maneuverability and stability to overcome the tidal current. Despite the tidal forces, the Steelhead proved capable of installing two different types of patch kits. In reflecting on the operation, the SEAMOR Marine team suggested the dual function gripper jaws be used without any additional components, such as the cutting jaw attachment, to limit any potential entanglement with the nets. Overall, it was clear that the Steelhead was a well-suited candidate to support net repair.
The third and final task was to cut tensioned anchor wires to allow operators to change damaged or expired netting. Using the dual function gripper with cutting jaws, the team adeptly cut over forty ropes, replacing the blade after every five to seven cables to ensure the effectiveness of the blades. Again, the Steelhead proved its worth as both rugged and reliable with enough thruster power and gripper strength to slice through the tensioned anchor wires.
Overall, the demonstration was a resounding success. Beyond the tasks undertaken by the SEAMOR Marine team, MOWI supervisors noted that the ease of deployment and operation that the Steelhead offered would allow non-diver staff to support maintenance operations. After this demo, MOWI placed an order for a SEAMOR ROV, the Steelhead which offers great portability and ease of deployment.
MOWI has now taken possession of their new SEAMOR Steelhead ROV and continues to appreciate the SEAMOR quality, stability, and reliability of the new addition to their critical operations. We extend our appreciation to MOWI for inviting our team to demonstrate our Steelhead ROV on site and look forward to seeing how their new Steelhead can support them in cultivating a sustainable and successful operation.