Getting any job done right means having the right tools. SEAMOR Marine recently released their newest model: Mako 2023! We designed the Mako 2023 with your growing offshore business in mind. ROV use for offshore operations comes with its own set of challenges and here is a summary of how the Mako 2023 will benefit your operations.
Mako 2023 offshore benefits
The muscle to carry mid-sized robotic arms such as the Bravo arm by Reach Robotics. You may prefer other industry leading manipulators, Mako 2023 can handle those too.
Power-cleaning brushes for infrastructure maintenance. Cleaning surface areas before testing is critical to achieving accurate readings.
Instrumentation for concrete inspection and strength testing.
Increased payloads for mission or task specific instrumentation with flexibility to change, and/or modify over-time.
Integration of Full sensor suites that are required to fulfill your job needs.
Deployable from smaller crafts as it is significantly lighter than standard Work Class ROVs. The Mako 2023 is a very capable work horse, nonetheless.
Range of tether configurations to ensure it meets your operational needs.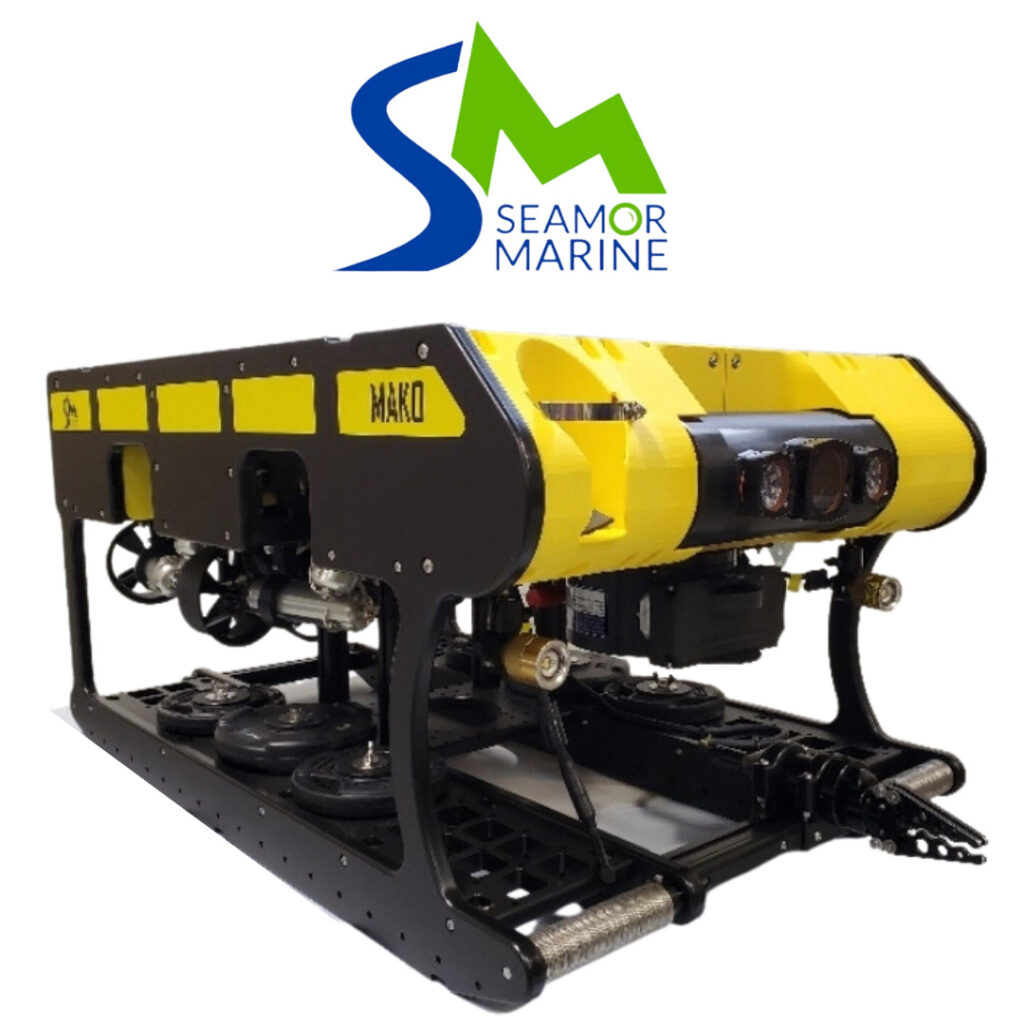 New and Improved
The new Mako 2023 bridges the gap between the large work-class ROVs and the smaller inspection-class ROVs that are currently on the market. The Mako 2023 still has the superb maneuverability, reliability, and quality of a SEAMOR ROV. It remains easy to operate over other, similar class models. Get in touch for a potential demo.
Of course, modularity is still a key feature. The Mako cannot only grow with your business with its increased payloads, it is even more configurable to meet your changing needs. This version of our Mako remains easy to maintain. Either by adding the accessories directly to the Mako or by developing configuration skids allows reconfiguring the Mako 2023 for each and every mission or application.
The real benefit of the Mako 2023 is that it can handle some challenging jobs that, usually, only a behemoth of a working-class ROV can do. In contrast, the working class ROVs come with significant price tags which our Mako does not. This makes the Mako 2023 cost-effective and space-efficient compared to other options on the market. Mako 2023 is the work horse that you can rely on.
Get in touch to chat about how we can build you your own specific ROV. This, so you have the right tools to get the job done for your offshore operations.